The Rebirth :

In 2010, Gang released its fifth album , simply called "V". 20th anniversary & back to the roots ! Early thrash, based on powerful riffs & vicious melodies. Often described as a
perfect combination between Metal Church & Priest !
New century
The early Years
In 2000 GanG striked back with a new line up. The old school influences made their way. More melodic singing, heavy metal riffs, ... GanG released thus 2 new albums on that era : from the concept album based on WW1 "Piece of war" to the swinging Thrash'n'roll "Dead or Alive"which included Twisted Sister & French cult band Vulcain's covers . The band also reissued on DVD its first video tape adding 2 live gigs from the 90's.


Born in 1990 under the moniker of Gush X, GanG released its first album in 1993. Massively touring in France, GanG released 2 other albums & 2 videos tapes, including several sampler appearance worldwide (Japan, ...). At that time, GanG's music was much more influenced by Hardcore & thrash.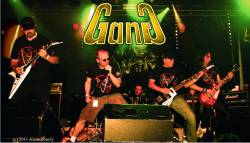 2010 Back on the road! !
The line up is strengthened with a new drummer & it leads the band to tour again. Then, GanG shares the stage with Procession, Tokyo Blade, Paul di Anno, Rage, Blaze Bayley, Vanderbuyst, Septic Flesh, Vulcain, ADX, Tygers of Pan Tang, Attentat Rock, Mr Jack (ex Vulcain / H Bomb), Tyranex, Spidkils, Koritni, Rozz, ....




2013 to be continued...
New coming live shows begins....the "What's road worth" mini tour & more new stuff is planned for the 2014 album & tour...Be prepared for a pure old school raging heavy metal stuff...

No testimony here, & always a new beginning
New releases... new beginning
In 2012, GanG pays its tribute to the golden era of heavy metal releasing « HM666% », first EP including 4 covers of Scorpions, Black Sabbath, Motorhead & Saxon , one brand new track & a
live track. While doing preproduction of its new album, planned in 2014, GanG goes on tour again. 2013 see the release of the first live album for GanG. CD & DVD including lot of bonus.


This live album shows Gang truly on stage. Recorded in Fismes in 2012 during the Rock'n' Metal convention Fest, "heavy metal road" is showing a live metal act, sharing pleasure & metal passion during the past 2 years.