2018 events in Fismes :

- 03/03/2019
Convention Rock'n'Metal #22
- 04/05/2019
Hard Rock Legend :
"The Irish Heritage"
Brian Downey (Thin Lizzy)
Pat Mc Manus (Mama's Boys)
- 05/10/2019
British Steel Saturday Night#8
special "Pieces Of Maiden"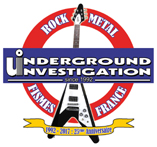 You'll find here all our productions on Cd, distribution stuff, Tee shirts, as well as our own fanzine & tickets for our events : Rock'n'Metal metal Market, Fismes France Hard Rock Rendez Vous fest, British Steel Saturday Night fest, ...

We're dedicated to all Metal, Underground or not !!!
Welcome to Underground Investigation E shop !