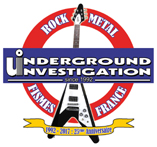 You'll find here all our productions on Cd, distribution stuff, Tee shirts, as well as our own fanzine & tickets for our events : Rock'n'Metal metal Market, Fismes France Hard Rock Rendez Vous fest, British Steel Saturday Night fest, ...

We're dedicated to all Metal, Underground or not !!!
2018 events in Fismes :

- 04/03/2018
Convention Rock'n'Metal #21
- 12/05/2018
Hard Rock Legend :
Chris Slade (AC/DC)
- 06/10/2018
British Steel Saturday Night#7
Welcome to Underground Investigation E shop !